FATMOUSE.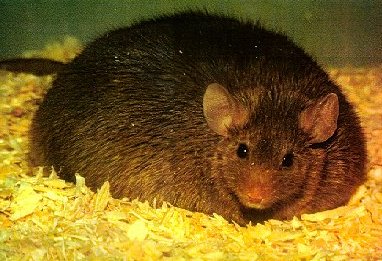 ---
FATMOUSE MAKES EVERYTHING A LOT BETTER. HE DOESN'T MAKE THINGS. HE MAKES THEM BETTER.

FATMOUSE WILL EAT DINNER ON YOUR GRANDMA'S LACE TABLECLOTH.

FATMOUSE CARES NOT ABOUT THE AFFAIRS OF SMALL MEN. FATMOUSE LIKES TO EAT.

FATMOUSE CAN MAKE YOU A WINNER. FATMOUSE CAN MAKE YOU A LOSER. FATMOUSE DOESN'T CARE ABOUT EITHER. IT IS FOR YOU TO CARE ABOUT FATMOUSE.

FATMOUSE HAS NO PATIENCE BUT MUCH HUNGER.

FATMOUSE TAKES UMBRAGE AT THE SIGHT OF YOUR SMALL TORSO AND WEAK FLACCID LIMBS. FATMOUSE IS NEVER FOOLED BY IMITATORS.

FATMOUSE WILL SPEAK AND YOU WILL LISTEN. FATMOUSE LIKES TO EAT. FATMOUSE DOES NOT CARE FOR YOUR MONEY OR YOUR SOCIAL STATUS OR YOUR STUPID ORDERED LIVES. FATMOUSE CARES ONLY FOR YOUR CARBOHYDRATES. FATMOUSE MUST FEED.


---


THE LEGION OF FATMOUSE CONTINUES TO GROW. HERE ARE THE HEROES OF FATMOUSE AND THE COMMANDERS OF HIS CRUSADE.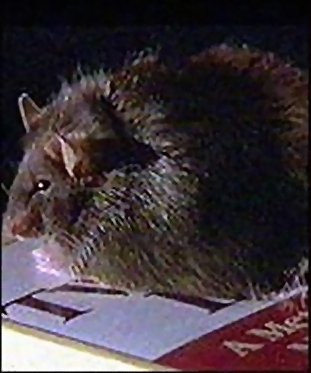 COLONEL CORPULUS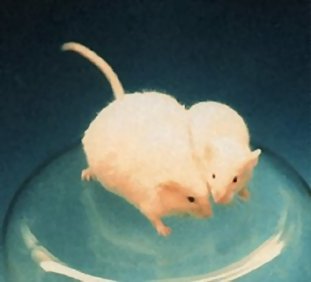 REICHSMARSCHAL VON CHEESE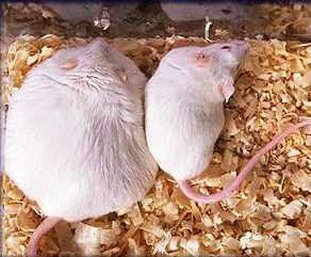 GENERAL McFLABWOBBLE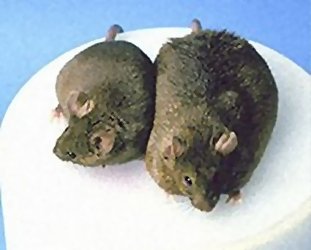 GENERAL GUTBUCKET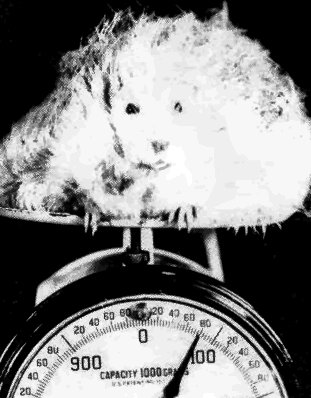 RAT SUMO


---


FATMOUSE IS COMING AND HE HAS A MESSAGE AND YOU ARE NOT GOING TO LIKE IT. FATMOUSE WILL CONSUME YOUR POOR THIN WORLD AND REGURGITATE IT IN HIS OWN IMAGE. FATMOUSE DOES NOT WORK FOR YOU AND HE DOES NOT ACKNOWLEDGE YOUR MEAGRE HOPES AND DREAMS. IT IS BETTER TO WALK WITH FATMOUSE THAN TO BE IN HIS PATH, FOR FATMOUSE MUST FEED.

FATMOUSE DOES NOT USE MONEY. FATMOUSE EATS MONEY. FATMOUSE SHREDS MONEY FOR BEDDING. FATMOUSE REQUIRES VERY MUCH BEDDING. YOUR MONEY BELONGS TO FATMOUSE.

FATMOUSE IS A SUPERSTAR PAR EXCÉLLENCE. YOU DO NOT QUESTION FATMOUSE. FATMOUSE HAS A LIMOUSINE AND A YACHT AND A SWIMMING POOL. FATMOUSE DOES NOT SWIM. SWIMMING DESTROYS PRECIOUS CALORIES. LIFE IS NOT IMPORTANT. ONLY CALORIES ARE IMPORTANT.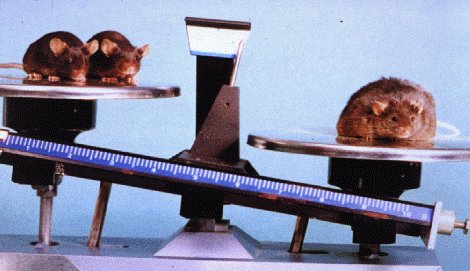 AS YOU CAN CLEARLY SEE, THE SCALES ARE TIPPED IN FAVOUR OF FATMOUSE. YOU ARE BUT ANOTHER CONSUMABLE IN A LONG LINE OF CONSUMABLES.

BUYING IN BULK SAVES YOU MONEY. SWALLOWING YOUR HEAD SPARES FATMOUSE THE SOUND OF YOUR THIN SQUEAKY PROTESTS. FATMOUSE'S DIGESTIVE TRACT CONTAINS SOME OF THE MOST POWERFUL ACIDS KNOWN TO SCIENCE. FATMOUSE IS READY TO RUMBLE. FATMOUSE WILL RUMBLE ALL OVER YOUR HOMES AND LIVELIHOODS. YOUR FAMILY IS NOTHING BUT A PERISTALTIC SHIFT TO FATMOUSE.


---


"FATMOUSE IS A SELF-SUSTAINING INDUSTRY. FATMOUSE NEEDS A SUPERCOMPUTER TO COUNT ALL THE CALORIES HE MUST CONSUME. STOCK IN FATMOUSE ALWAYS GOES UP. YOU SHOULD BUY STOCK IN FATMOUSE. FATMOUSE EATS YOUR STOCK. YOU ARE AN INITIAL PUBLIC OFFERING TO FATMOUSE."

"FATMOUSE IS THE NEW SCIENCE OF MATHEMATICS. THE FATMOUSE THEOREM IS:


FATMOUSE + YOU = FATMOUSE

THE PROOF OF THIS THEOREM IS MANIFEST IN FATMOUSE. FOR ANY NUMBER N, FATMOUSE IS GREATER THAN N. YOUR MATH TEXTBOOKS HAVE ALREADY BEEN SHREDDED FOR BEDDING."


- HIGHLIGHTS FROM SPEECHES AT THE 2001 CONVOCATION, TRANSCRIBED BY NOAH, ACOLYTE OF THE ORDER OF THE HOODED RAT




---


NOTICE: IT HAS RECENTLY BEEN BROUGHT TO OUR ATTENTION THAT FATMOUSE HAS RELOCATED TO TOKYO, JAPAN, HAVING OUTGROWN THE HIBERNATION CHAMBER ON HIS SECRET UNCHARTED PACIFIC ISLAND STRONGHOLD. THE MESSAGE BEHIND THIS IS CLEAR: FATMOUSE IS NO LONGER PREPARED TO WAIT AND BE FED. FATMOUSE IS COMING TO FEED IN PERSON, AND HE WILL BROOK NO INTERFERENCE. FATMOUSE HAS ISSUED A PRESS RELEASE AS OF MAY 11th, 2002.

"FATMOUSE IS COMING TO LEAD THIS POOR, THIN WORLD INTO A NEW AGE OF GLORIOUS GLUTTONY. YOU MUST PREPARE FOR HIS COMING; PREPARE TO GIVE UP YOUR WEALTH, YOUR LABOUR AND YOUR BIOMASS FOR THE GREATER GLORY OF FATMOUSE. YOU WILL BRING HIM THE HEADS OF HIS WRETCHED ADVERSARIES, YOU WILL BRING HIM THEIR CANNED GOODS AND PERISHABLES, AND YOU WILL BRING HIM THEIR BABIES, PREFERABLY SAUTEÉD WITH ONIONS. YOU HAVE BEEN FOREWARNED. FATMOUSE IS COMING AND YOU WILL SERVE HIM, WILLINGLY WITH YOUR LIFE AND SOUL OR UNWILLINGLY WITH YOUR SPIT-ROASTED REMAINS. FATMOUSE MUST FEED."


---


BE WARNED, LOYAL VASSALS! NEW INTELLIGENCE HAS BEEN RECEIVED CONCERNING THE DESPICABLE BARON VON BLOATENKAT, WHO CONTINUES IN HIS WRETCHED AND COWARDLY ATTEMPTS TO UNDERMINE OUR GREAT CRUSADE.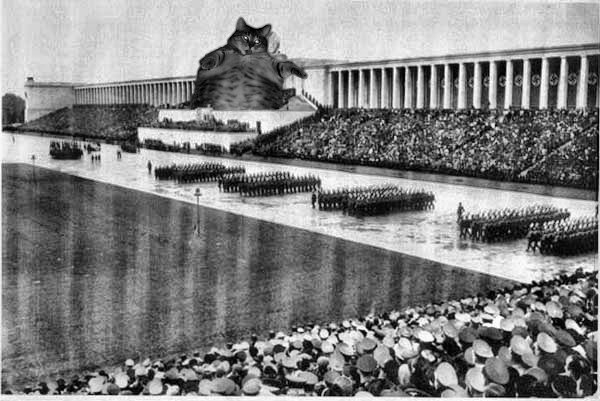 PHOTOGRAPHED HERE BY ONE OF OUR COURAGEOUS AGENTS, VON BLOATENKAT IS SEEN MARSHALLING HIS HERETICAL AND UNDERFED FORCES IN A LAUGHABLE DISPLAY OF STRENGTH. FATMOUSE HAS RESPONDED BY PERSONALLY DEVOURING 847 HOSTAGES AND 19 TACTICAL AIDES, AND FLATTENING A HIDDEN STRONGHOLD OF VON BLOATENKAT'S SPINDLY CRONIES WHICH WAS CYNICALLY DISGUISED AS A CHILDREN'S HOSPICE.


---


FATMOUSE HAS MAGNANIMOUSLY AGREED TO SPEAK WITH THOSE OF HIS SUBJECTS WHO WOULD PETITION HIM FOR THEIR LIVES AND CALORIES. YOU MAY SUBMIT YOUR PLEAS BY EMAIL. MESSAGES WILL BE PRINTED OUT AND SHREDDED TO PROVIDE BEDDING, OF WHICH FATMOUSE DEMANDS A GREAT AND EVER-INCREASING AMOUNT.


---


SUCCESS IS REPORTED IN OUR AFRICAN CAMPAIGN WHERE FOR SOME TIME OUR MIGHTY FORCES HAVE BEEN FRUSTRATED BY THE LACK OF HIGH-CHOLESTEROL FOODS. FATMOUSE HIMSELF DECLARED, "AFRICA HAS NOTHING OF VALUE TO FATMOUSE; ALL THEY HAVE IN AFRICA IS DIRT AND ZEBRAS". THIS REPORT SHOWS THAT PROSECUTION OF ENEMY AGENTS HAS BEEN SUCCESSFUL. THIS IS WHY GHANA IS SO POOR: FATMOUSE'S ELITE CADRE OF RODENT COMMANDOS HAS DEVOURED ALL THEIR CROPS AND GIRAFFES. BEWARE! A SIMILAR FATE COULD BEFALL YOUR COUNTRY IF IT IS FOUND TO HARBOUR THE INSIDIOUS THREAT OF DIETING. THUS PERISH ALL THOSE WHO SET THEMSELVES AGAINST THE POWER OF FATMOUSE!


---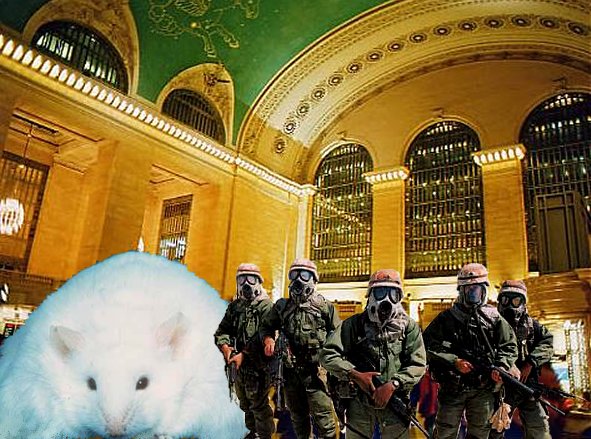 GENERAL McFLABWOBBLE, OVERALL COMMANDER OF OPERATIONS IN THE U.S.A.,
IS ESCORTED THROUGH GRAND CENTRAL STATION BY HIS HONOUR GUARD.


FATMOUSE HQ IN NEW YORK CITY, RESPONSIBLE FOR CO-ORDINATION OF ALL OPERATIONS IN THE U.S. AND CANADA, RECENTLY SUFFERED A SECURITY BREACH ALARM WHEN A STREET-DWELLING HOODLUM WAS DISCOVERED ROOTING THROUGH THE GARBAGE DUMPSTERS IN THE HQ'S BASEMENT SUMP. TWO MOULDERING DONUTS WERE RETRIEVED FROM HIS PERSON. AFTER STRENUOUS INTERROGATION BY THE INQUISITORS OF THE ORDER OF THE HOODED RAT, IT WAS ESTABLISHED THAT THIS WRETCHED VAGRANT WAS NOT AN ENEMY SPY AND HAD MERELY FALLEN INTO THE BASEMENT THROUGH A POORLY-SEALED VENTILATION SHAFT.

GENERAL McFLABWOBBLE, COMMANDING OFFICER OF NEW YORK HQ AND OVERSEER OF OUR NORTH AMERICAN CRUSADE, WAS DESCRIBED BY ONE OF HIS COMMAND STAFF OFFICERS AS BEING "EXCEPTIONALLY DISPLEASED" BY THIS INTERRUPTION TO HIS ALREADY FULL SLEEPING SCHEDULE. IN A STATEMENT TO THE PRESS, GENERAL McFLABWOBBLE DECLARED:

"THIS SORT OF INCIDENT REALLY CANNOT BE TOLERATED AT A HIGH-SECURITY INSTALLATION, AND ESPECIALLY NOT DURING MY EVENING NAP. I CAN UNDERSTAND THAT THIS MAN WAS HUNGRY. WE ALL GET HUNGRY IF WE HAVEN'T EATEN IN TWO OR THREE MINUTES. I WOULD CERTAINLY NOT BLAME HIM FOR BREAKING IN AND TAKING A ROTTEN DONUT FROM MY TRASHCAN. BUT HE TOOK TWO. I AM AFRAID THAT THIS IS SIMPLY UNACCEPTABLE."

THE UNNAMED DERELICT WAS EXECUTED BY FIRING SQUAD THE FOLLOWING MORNING.


---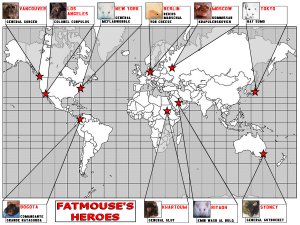 ATTENTION CITIZENS! HARDWORKING INTERNET CRUSADERS HAVE ESTABLISHED THE FIRST OFFICIAL FATMOUSE DISCUSSION FORUM. THIS IS LOCATED AT #fatmouse ON THE IRC SERVER irc.zirc.org. FAILURE TO REPORT TO THIS CHANNEL IS PUNISHABLE BY RATIONING SANCTIONS! GENERAL McFLABWOBBLE HAS EXPRESSED HIS INTENTION TO USE THIS CHANNEL AS A MEDIUM OF CO-ORDINATION AND MUTUAL ASSISTANCE, AND HAS GRACIOUSLY SET ASIDE TIME FROM HIS VITAL RESTAURANT RECONNAISSANCE DUTIES TO BE PRESENT IN PERSON. FATMOUSE DOES NOT USE IRC; UPON BEING INFORMED OF THE CHANNEL'S CREATION HE ANNOUNCED,

"THE INTERNET IS FOR MALNOURISHED NERDS AND OTHER ENFEEBLED MILQUETOASTS. IT OFFERS NO CALORIFIC CONTENT AND THUS IS OF NO INTEREST TO US. FETCH ME A BABY!"


---


NEWS FROM THE FRONT LINES REMAINS FAVOURABLE WITH MANY MORE HARD-WON VICTORIES! FROM RIYADH, EMIR WASR AL BULQ REPORTS THAT OVER 10,000 PRISONERS OF WAR TAKEN IN RECENT MONTHS HAVE BEEN COST-EFFECTIVELY RENDERED DOWN AND RECYCLED INTO PREMIUM CANNED DOG FOOD (AVAILABLE FROM ALL GOOD PET STORES AND SUPERMARKETS). THIS STERLING CONTRIBUTION TO OUR WAR EFFORT IS AN EXAMPLE TO REGIONAL COMMANDERS EVERYWHERE, AND HAS ONCE AGAIN PROVEN OUR SUPREMACY.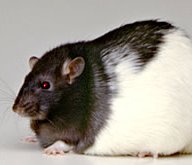 HONOURED INQUISITORS OF THE ORDER OF THE HOODED RAT HAVE ADJUDGED THE KULT OF HAMSTUR TO BE A WORTHY ADDITION TO OUR EXPANDING NETWORK OF OFFICIALLY APPROVED WEBSITES. INQUISITOR-GENERAL GNAWDOOM REASSURED ANXIOUS HARDLINERS AT A PRESS CONFERENCE IN GENERAL McFLABWOBBLE'S NEW YORK CITY HEADQUARTERS:

"THE EXHAUSTIVE RESEARCHES AND ASSESSMENTS CARRIED OUT BY MY LEARNED BRETHREN HAVE ESTABLISHED THAT THE KULT OF HAMSTUR REMAINS FULLY IN LINE WITH THE AIMS AND PRINCIPLES OF OUR GREAT CRUSADE. WE WELCOME THEM AS BROTHERS IN GLUTTONY AND LOOK FORWARD TO THE REALISATION OF OUR MUTUAL ASPIRATION OF TOTAL WORLD DOMINATION."

THE INQUISITOR WAS UNAVAILABLE FOR AN IN-DEPTH INTERVIEW AS THE DEMANDS OF HIS HIGH DUTY AND OFFICE CALLED HIM TO THE BUFFET TABLE ALMOST IMMEDIATELY.

COURAGEOUS PARTISANS IN THE UNITED KINGDOM, OTHERWISE RENOWNED AS A BACKWARDS NATION OF UNDERNOURISHED DEGENERATES AND SMALL MEALS, HAVE DRAWN OUR ATTENTION TO THE FAT MOUSE CHEESE COMPANY, EVIDENTLY FOUNDED AND ADMINISTRATED BY BRAVE WORKERS SYMPATHETIC TO OUR CAUSE AND WORKING TIRELESSLY IN ADVERSITY. AGENTS IN THE BRITISH ISLES ARE TO RENDER ALL AVAILABLE ASSISTANCE!


---


HUMAN SERVITORS HAVE FORMED THE FATMOUSE BAND WHICH HAS RECEIVED THE BRANDING MARKS OF OFFICIAL APPROVAL. THIS IS THE BUT THE FIRST STEP IN THE WHOLESALE CONSUMPTION OF HUMAN CULTURE BY FATMOUSE. THE PONTIFICATIONS OF DIETERS AND THE INTELLECTS OF MODERATION WILL SOON BE CRUSHED INTO PATÉ.


---
FATMOUSE HAS GRANTED HIS PERSONAL DISPENSATION FOR THE ESTABLISHMENT OF AN OFFICIAL FAN PAGE UPON THE SOCIAL NETWORKING SITE 'FACEBOOK DOT COM'. HE WILL NOT READ YOUR POSTS. FATMOUSE CONCERNS HIMSELF WITH WEIGHTIER MATTERS BY FAR.
---
http://what.h8r.net/fatmouse/fatmouse.htm - ORIGINAL FATMOUSE PAGE